WHY SCREEN ?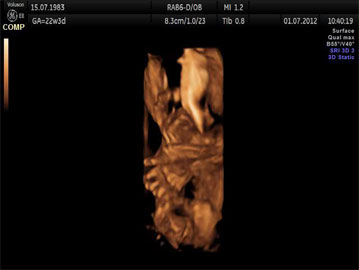 Triage mothers to High Risk & Low Risk
Prevent Maternal Complications
Screen the fetus for

Chromosomal errors
Structural Defects
Growth abnormalities

Decide the time and mode of safe delivery
THE PYRAMID OF ANTENATAL CARE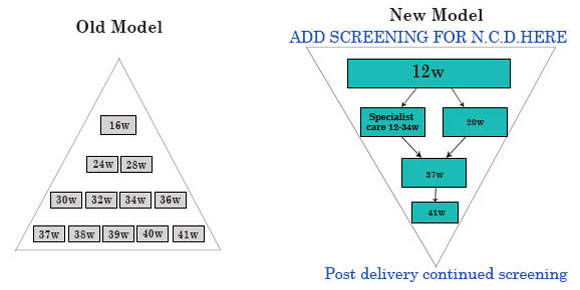 Routine Antenatal Care 1990s....
Early scan to diagnose pregnancy & dating
Fetal defects
Routine Antenatal Care 2005
20-23 wks
P I P I P
The great Ob syndrome
Routine Antenatal Care 2010
11-13 +6 wks
Fetal defects Chemical markers Major Cardiac defects Uterine artery Doppler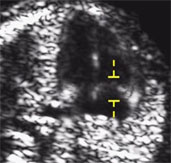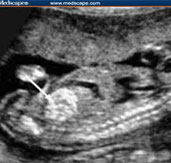 FOGSI OLD CHECK LIST OF 2009,MODIFIED IN 2017 AT FOGSI T.O.G.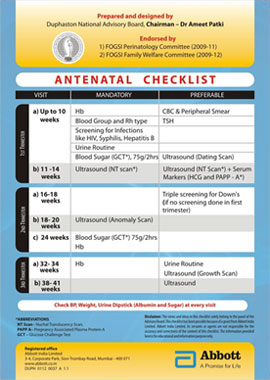 FIRST TRIMESTER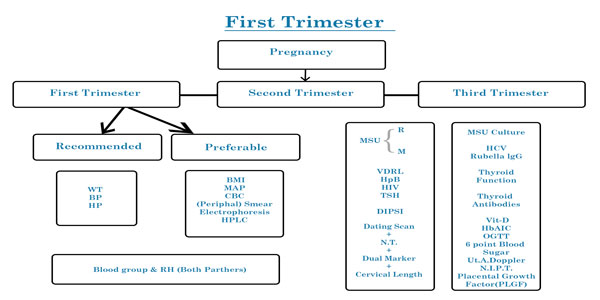 Body Mass Index – If high
Prevent further weight gain
Institute Life style modifications
Medical Therapy – Metformin
Nutrition Therapy – High fibre diet
Daily Exercise
Prepare for safe delivery
General Examination
Heart – Murmurs
Lungs – Rhonchi
Breast – Lumps / Nipples
Abdomen – Scars / Lumps
Per Speculum – Discharge / Polyp / Erosion LBC / HPV
Anus – Sentinel Pile
Blood Pressure
Hypertension – BP in both arms Sitting position Dissappearance of korotkov
Hypotension – increase sodium/ potassium intake
Screening test for PIH

Placental Growth Factor (PlGF)
S Flt
s endoglin
Uterine artery doppler flow indices
Screening for Anaemia
Complete Blood count
Peripheral Smear
If Microcytic Hypochromic

Iron studies – Ferritin / Total Iron / TIBC
Haemoglobin Electrophoresis

If Normocytic / Macrocytic

Serum Vitamin B12
Serum / Red cell Folate
Reticulocyte count
Blood group & Rhesus Antibodies
If Rhesus Negative
Partners Blood group – If negative –
If positive – Indirect Coombs test
If positive – Cordocentesis & fetal blood transfusion with Rh negative blood at periodic intervals
Deliver at 34 weeks
Endocrine Screening
Thyroid function test
If abnormal, thyroid antibodies
In PCO – screen for GDM early (HbA1C)
If galactorrhea – Prolactin
Serum Vitamin D
Relaxin ?
Various Integrated screening in strategies (1st and 2nd trim)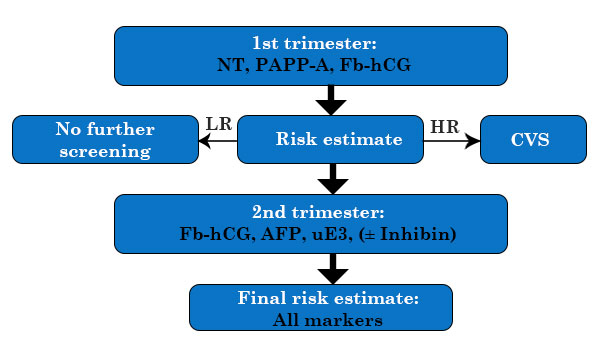 Main strategies:
Fully Integrated
Step-wise sequential
Contingent screening
Non Invasive Prenatal Testing (NIPT)
NIPT – 9 weeks onwards
At least 4% fetal fraction to be identified
Twin Pregnancy – confusing results
Vanishing twin – confusing results
If positive – CVS / Amniocentesis
CVS
11-14 weeks
Transcervical
Check for chorionic villi under microscope
Risk of miscarriage 1%
Need is obviated now due to NIPT
Amniocentesis
15-18 weeks
Risk of miscarriage < 1%
To confirm diagnosis in positive integrated screen and/or positive NIPT
To screen known carriers for chromosomally abnormal fetus
FIRST TRIMESTER SCREENING FOR CHROMOSOMAL ANOMALIES
FIRST TRIMESTER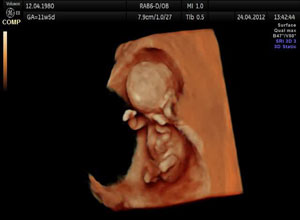 Screening in the 1st trimester
Time window: 8 - 14 weeks
Ultrasound Marker:
Biochemical markers:
Marker combination:
Combined test: NT, PAPP-A, Fb hCG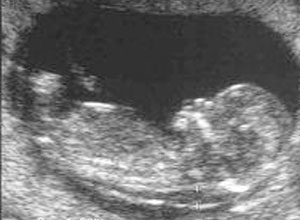 Screening for Trisomy 21 at 11- 14 weeks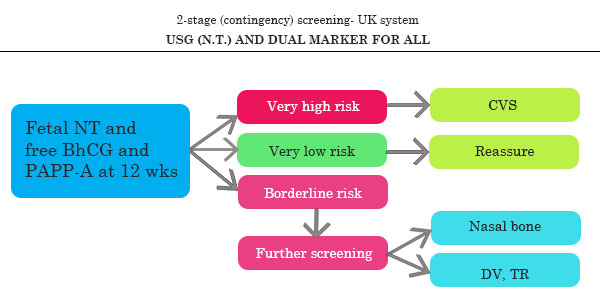 Screening for Trisomy 21 at 11- 14 weeks for India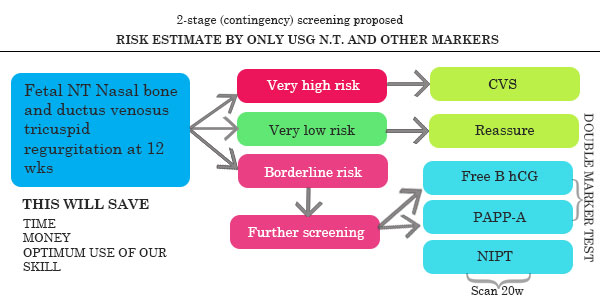 Integrated 1st and 2nd trimester screening
First trimester
MA + NIPT(OPTIONAL)
Dual Marker
NT + NB + TR + DV
Second trimester
Quad Marker
Genetic Sonogram
DR – 97%
FPR – 2.5%
CONTINGENT SCREEN
SO PROPOSAL IS INDIAN CONTINGENT SCREEN OR INTEGRATED FIRST AND SECOND TRIMESTER SCREEN
COMBINED FIRST TRIMESTER SCREEN FOR RISK ESTIMATE...
FOLLOWED BY COMBINED 2ND TRIMESTER RISK SCREENING
Combined 1st trimester screening risks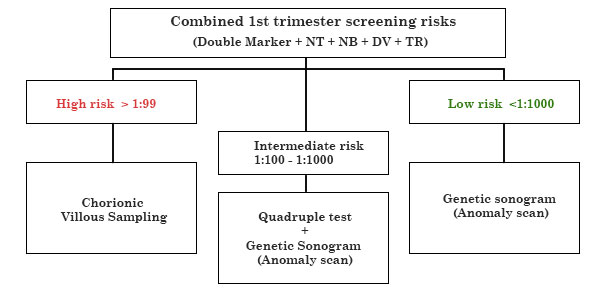 Combined 2nd trimester screening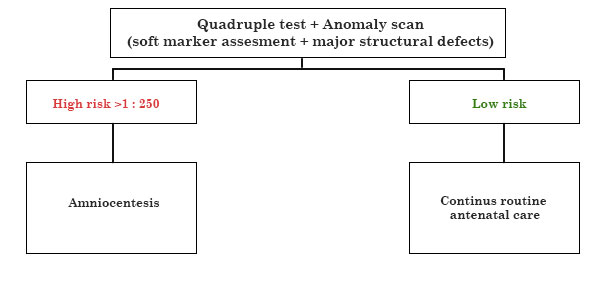 COMBINED SCREENING & RISK ESTIMATION IN FIRST TRIMESTER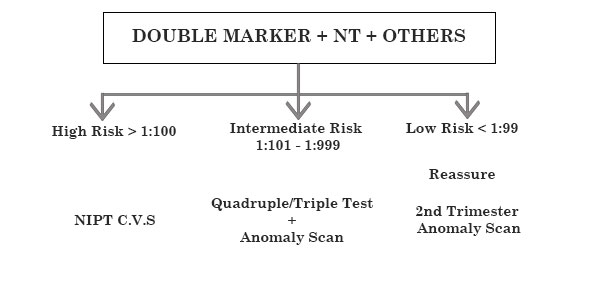 ANTENATAL CHECKLIST
| First Trimester | Recommended | Preferable |
| --- | --- | --- |
| | weight | BMI |
| | Blood pressure | Mean Arterial Pressure |
| | Haemoglobin | Complete blood count/ Peripheral smear / Hb Electrophoresis / HPLC |
| | Blood group ABO & Rh (both partners) | |
| | Urine routine | MSU culture |
| | VDRL/ Hep B / HIV | HCV / Rubella IgG |
| | TSH | Thyroid function test / Thyroid Antibodies Vitamin D |
| | DIPSI test 75gms 2 hours blood sugar | Hb A1C / OGTT/ 6 point blood sugar test |
| | Dating scan + NT Double marker (free beta HCG + PAPP A 1 ) Contingent Screen 2 | Cervical length Uterine artery Doppler NIPT Placental Growth Factor (PLGF) |
| | Per speculum exam | Pap Smear, Bacterial vaginosis & Chlamydia screen |
LOW LEVELS PREDICT PRE ECCLAMPSIA
LOW RISK NO FURTHER TEST (1 : 1000)
INTERMEDIATE RISK (100 : 999) TO PROCEED TO SECOND TRIMESTER SCREENING VS NIPT HIGH RISK (1 : 99) TO GO FOR CVS / NIPT
SECOND TRIMESTER SCREENING
SECOND TRIMESTER SCREENING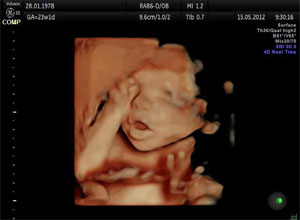 CERVICAL LENGTH SCREENING
CERVICAL LENGTH SCREENING ROUTINE TO PREVENT PRETERM LABOUR AND FOR GUIDELINE FOR CX STITCH
ASYMPTOMATIC SINGLETON PREGNANCY A TVS CL <25 MM IN SECOND TRIMESTER
SCREEN AT 11-13 WEEKS AND THEN AT 22-22 WEEKS
RECENT EVIDENCE SAYS CX STITCH DOES NOT HELP AND PROGESTERONE MAY BE THE ONLY TREATMENT OPTION HERE.ROUTINE MCDONALD STITCH PRACTISE SHOULD BE INDIVIDUALISED
Sequential Screening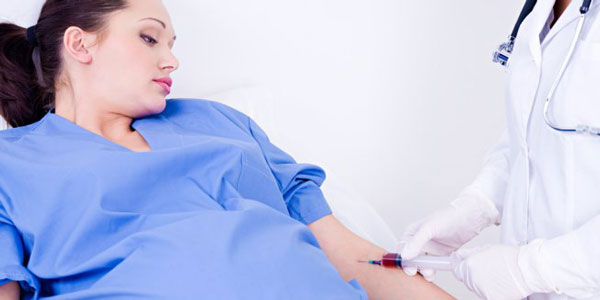 Quadruple marker – 15-18 weeks
NIPT 9 week onwards
Amniocentesis – 15 week onwards
COMBINED 2ND TRIMESTER SCREENING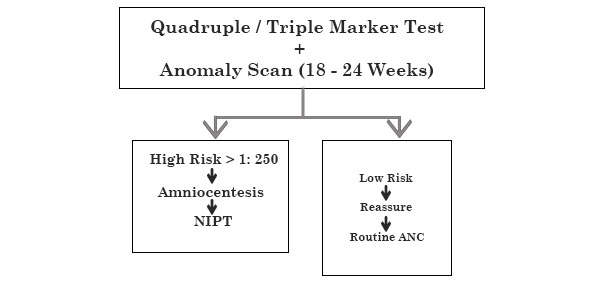 NON USG SCREENING FOR FETAL WELL BEING
CARDIOTOCOGRAPHY
Non Stress test vs Oxytocin Stress test
When to start ? Post viability period 30 weeks
How often to do ? Once a week
What are the omnious signs –

Lack of BTB variation
Variable deaccelerations of cord compression
Late deacceleration of fetal hypoxia

Supplement with ST waveform analysis
Fetal cord blood pH during labour
KICK CHART
Recording
Every kick / roll is 1 movement
Count 10 movements everyday
Should be around 6 in 1 hour
If < 6 movements in 2 hours
Call doctor & come for CTG / USS assessment
How do I count my baby's movements?
Get into a comfortable position – lying on your side or sitting. Place one or both of your hands on your abdomen.
Count each time that you feel your baby move. If you feel many movements all at once, count each movement that you feel.
Write down the date and the time that you start counting on the fetal movement chart

Count your baby's movements once a day. You should feel 6 or more movements in 2 hours.

Stop counting when you have counted 6 movements
Write down the time you stopped counting.
Do not count for more than 2 hours
What if I don't feel 6 movements in 2 hours?
If you count fewer than 6 movements in 2 hours do not wait. Go to the hospital or birthing unit.
Your baby's heart rate and movements will be checked using a fetal monitor. This is called a non-stress test or NST.
If you live too far from a hospital or birthing unit, immediately contact your health care provider for advice.
About baby's movements
An active baby is usually a healthy baby. You will feel your baby stretch, kick, roll and turn every day. Some babies are more active than others. All babies have periods of sleep during which they are not as active. You will get to know your baby's pattern of movements and when your baby is most active.
You should feel your baby's movements throughout the day, each day from 28 weeks of pregnancy until the baby is born.
When during my pregnancy should I count my baby's movements?
Your health care provider may ask you to count your baby's movements once every day.
If you think there is a decrease in your baby's movements this is an important sign that your baby may not be well. Count your baby's movements to be sure that you feel at least 6 movements in 2 hours.
Reference:
Society of Obstetricians and Gynaecologists of Canada (2007).
Fetal Health Surveillance : Antepartum and Intrapartum Consensus Guideline. Journal of Obstetrics and Gynaecology Canada. 29(9).
FETAL MOVEMENT COUNT CHART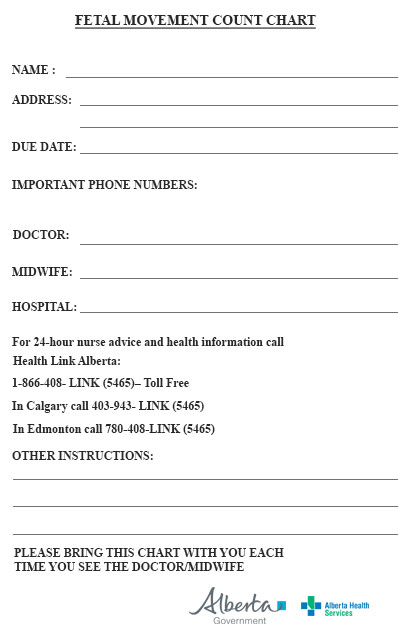 TWEAK Screening for alcoholism
T – Tolerance (No of drinks one can hold)
W- Worry about drinking
E – Eye opener
A - Amnesia
K/C – Cut down on drinking
To screen for fetal alcohol syndrome
Antepartum fetal surveillance is the assessment of fetal well being in utero before the onset of labor
Early detection of fetus at risk so that timely management to prevent further deterioration
Also find out normal fetuses and avoid unnecessary interventions
Very high negative predictive value
Very low positive predictive value
FETUS AT RISK
PRE TERM
POST TERM
IUGR
THICK MECONIUM WITH SCANTY FLUID
INTRAUTERINE INFECTION
INTRAPARTUM BLEEDING
FETUS AT RELATIVE RISK
INJUDICIOUS USE OF OXYTOCIN
EPIDURAL IN A CASE WITH SOME COMPROMISE
DIFFICULT INSTRUMENTAL DELIVERY/ MACROSOMIA/ MALPRESENTATION
ACUTE EVENTS (CORD PROLAPSE, ABRUPTION, SCAR RUPTURE)
SUSPICIOUS/ ABNORMAL ADMISSION TEST
Admission assessment Are any risk factors present?
Maternal problems
Previous LSCS
Pre-eclampsia
Post-term pregnancy (>42 weeks)
Prolonged membrane rupture (>24 hours)
Induced labour
APH
Other maternal disease
Fetal problems
Growth restriction
Prematurity
Oligohydramnios
Abnormal dopplers
Multiple pregnancy
Meconium stained liquory
Breech presentation
INDICATION OF FETAL SURVEILLANCE
Maternal conditions
Hypertension
Diabetes mellitus
Heart Disease
Chronic renal disease
Acute febrile illness
Pneumonia /asthma
Epilepsy
Collagen vascular disease
Sickle cell disease
Antiphospholipid syndrome
Drug Abuse
Fetal conditions
Fetal growth restriction
Rh isoimmunisation
Fetal Cardiac arrythmia
INDICATION OF FETAL SURVEILLANCE
Maternal conditions
Hydrops fetalis
Fetal infections
Pregnancy Related Conditions
Preeclampsia
Multiple pregnancy
Post term pregnancy
Decreased fetal movements
Abnormal placentation
Oligohydramnios
Polyhydramnios
Unexplained stillbirth in a previous pregnancy
Cholestasis of pregnancy
PROM
Poorly controlled Gestational Diabetes mellitus
The Various Methods of Antepartum Fetal Surveillance
Clinical assessment by uterine growth
Fetal movement count by the mother
Ultrasound for fetal growth
Non stress test and cardiotocography
Vibroacoustic stimulation test
Contraction stress test
Nipple stimulation test
Biophysical profile
Modified biophysical profile
Doppler studies
Fetal lung maturation studies
Placental grading
Check list made a few years back....NOW TO BE MODIFIED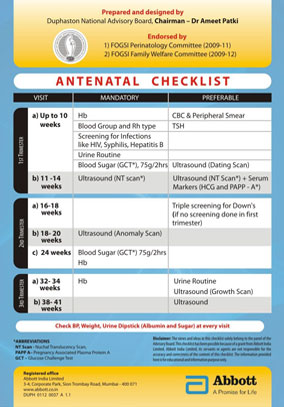 SCREENING IN PREGNANCY
At booking (Recommended 3ANC) [Preferable 5]
General Physical exam Heart / Lungs / Breast / Abdomen
In all trimesters
Maternal weight /BMI
Blood Pressure / Mean Arterial Pressure
Urine dipstick (albumin sugar)
ANTENATAL CHECKLIST
| First Trimester | Recommended | Preferable |
| --- | --- | --- |
| | weight | BMI |
| | Blood pressure | Mean Arterial Pressure |
| | Haemoglobin | Complete blood count/ Peripheral smear / Hb Electrophoresis / HPLC |
| | Blood group ABO & Rh (both partners) | |
| | Urine routine | MSU culture |
| | VDRL/ Hep B / HIV | HCV / Rubella IgG |
| | TSH | Thyroid function test / Thyroid Antibodies Vitamin D |
| | DIPSI test 75gms 2 hours blood sugar | Hb A1C / OGTT/ 6 point blood sugar test |
| | Dating scan + NT Double marker (free beta HCG + PAPP A 1 ) Contingent Screen 2 | Cervical length Uterine artery Doppler NIPT Placental Growth Factor (PLGF) |
| | Per speculum exam | Pap Smear, Bacterial vaginosis & Chlamydia screen |
LOW LEVELS PREDICT PRE ECCLAMPSIA
LOW RISK NO FURTHER TEST (1 : 1000)
INTERMEDIATE RISK (100 : 999) TO PROCEED TO SECOND TRIMESTER SCREENING VS NIPT HIGH RISK (1 : 99) TO GO FOR CVS / NIPT
| Second Trimester | Recommended | Preferable |
| --- | --- | --- |
| 18-24 weeks | Repeat bloods (Hb / blood sugar / TSH) & urine test as indicated | |
| | Quadruple OR Triple marker | NIPT |
| | Anomaly scan | 3D/4D scan/ Fetal Echo Uterine artery Doppler |
| | Cervical length | |
| | DIPSI screen 75 gms 2 hour blood sugar | 6 Points Blood Sugar HbA1C |
| Third Trimester | Recommended | Preferable |
| --- | --- | --- |
| 24 weeks onwards | Repeat DIPSI Screen TSH/Hb/Urine | HbA1C |
| | Growth scan with liquor volume & placental localisation | Fetal Doppler velocimetry |
| | Fetal movement count (6 in 2 hours) | CTG (NST) Modified biophysical Score Doppler velocimetry |